News
A slowdown in the housing market could be a buying opportunity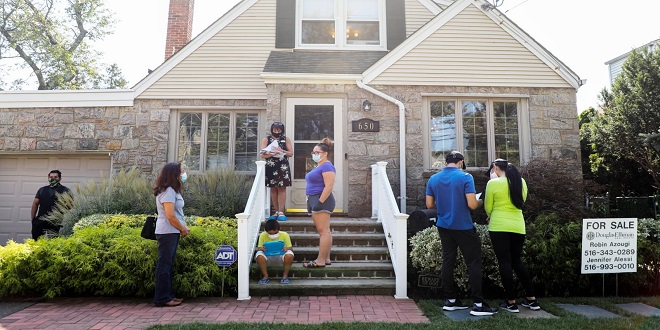 In recent years, the U.S. housing market was on a roll with rising prices and record sales. There are signs that the market is cooling down. This could be a great time to buy a home. Continue reading to find out more about the current housing market and how you can benefit from it.
Current state of the housing market
Since the Great Recession, the housing market has been experiencing turmoil. The number of homes available for sale has dropped significantly since the Great Recession, especially for people looking to buy their first home or upgrade to a bigger house.
Due to tight credit standards and an increasing population, there has been a shortage of supply which has caused prices to rise to new heights. Due to the high down payment and lack of financing options, entry-level buyers have fewer choices.
Many people also have suffered huge financial losses from foreclosures or job loss, further shrinking a market that was consumer-driven.
The real-estate housing market is currently experiencing uncertainty. Both buyers and sellers are trying to navigate this constantly changing landscape with few options.
There is no certainty that changes will not occur. Sellers and buyers who are able to embrace these changes, even if cautiously, can reap enormous rewards in an ever-changing economic environment.
Benefits of buying a house in a slowdown
Buying a house in this market downturn can be a good decision.
Less competition
You may be able buy your property at a lower price than the market because there is less competition from other buyers looking for their dream homes. You may also be able purchase a larger property, or one that offers more amenities than you were able to afford with your budget.
Lower mortgage rates
Many banks and lenders now offer lower mortgage rates. This means that you could save hundreds of dollars over your loan term if you take advantage now.
Although rates are slowly rising, they are still lower than in the past. This is your chance to secure this great deal.
Tax incentives
Some areas offer tax incentives for those who purchase homes in the downturn. Even if you don't qualify immediately, you can still save money.
Do not forget about the mortgage interest deduction. This is one of the most important tax benefits homeowners have. This allows homeowners to deduct interest paid on mortgages. It doesn't matter if the loan was used to purchase, build, or improve your primary home.
Investment value
Last but not least, if you invest in property now, it is likely to appreciate in value when the market recovers.
So, despite economic uncertainty right now, purchasing a house in this slowdown might prove to be a wise financial move later.
Tips for people looking to buy a house during a slowdown
In any economic environment, home buying can seem daunting. But it is especially difficult during times of economic turmoil. To make the home buying process as smooth as possible, there are several steps potential homebuyers should take.
First, you need to be realistic about your goals and expectations. Look for homes within your budget and then focus on what you really want and need.

 

You can easily get too excited and dream up larger or more expensive homes. However, this could lead to a worse financial position in the long-term.

Second, be open-minded and flexible. While you may want the perfect home, compromises on certain features can make a difference when making an offer.

It is also important to be informed. Research the market and analyze current trends in your local area to make an informed decision when it comes to buying.

 

Compare house prices in other areas with the most recent real estate data.

Next, take your time and view the houses. If possible, visit the houses multiple times throughout the day, as well as during the week to get a complete view.

 

It is possible for the ideal neighborhood to look different at night than during the day.

Consider consulting a real estate agent for advice. They will be able provide valuable insight and guidance through the entire process.

Final, ensure that a qualified inspector inspects the property before you sign an agreement. This will help to avoid any surprises later.
Conclusion
It can be hard to determine when the right time to buy because the housing market is constantly changing. A slowdown may be the right time for someone looking to buy their first home or to upgrade to a bigger one.
You can save money by taking advantage of low interest rates and prices. You can also save money by buying during a slowdown, such as getting exactly what you want for your dream home.
Read More: DailyNewsArea